about
Dates : May 13-21,2017
Appliced Ensembles : 239 Ensembles
Venue : Izumi Hall (Osaka,Japan)
Participated Ensembles : 3434 Ensembles
Prize Winners of each Section
SectionI String Quartet
First Prize
Aizuri Quartet / USA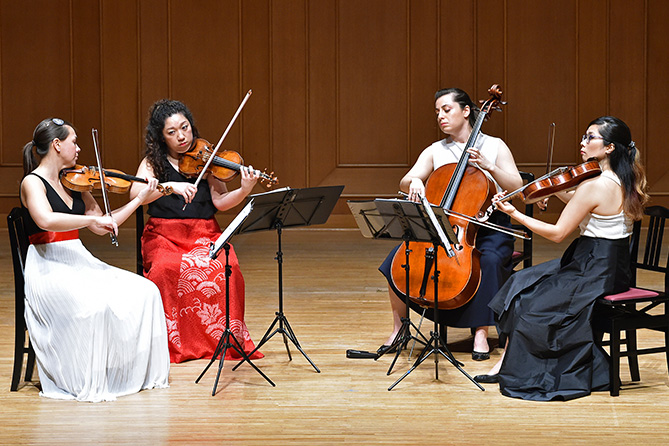 The Aizuri Quartet is a prizewinner in the 2015 Wigmore Hall International String Quartet Competition. Based in New York, the Quartet was the 2014-2016 String Quartet-in-Residence at the Curtis Institute. Recent highlights include debuts at the Kennedy Center, Schneider Concerts (New York), and Philadelphia Chamber Music Society. The Quartet has appeared internationally in Dresden, Paris, Salzburg, Abu Dhabi, Mexico, and Chile. The Aizuris are proud to have commissioned works by Pulitzer Prize-winner Caroline Shaw, Paul Wiancko, Yevgeniy Sharlat, and Gabriella Smith. Formed in 2012, the Aizuri Quartet draws its name from "aizuri-e," a style of Japanese woodblock printing noted for its vibrancy and incredible detail.
Second Prize
Ulysses Quartet / USA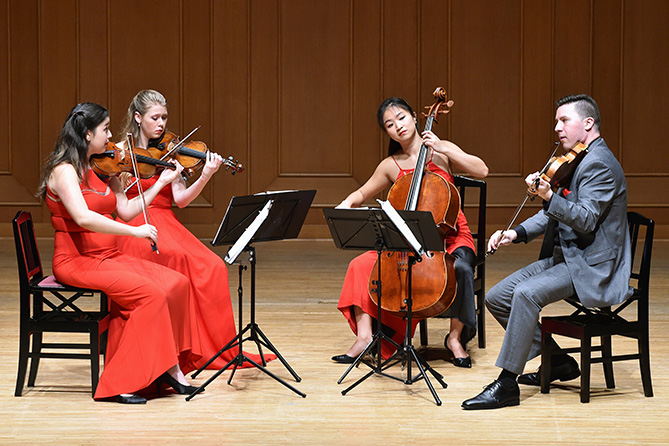 Winners of Grand Prize and Gold Medal in the Senior String Division of the 2016 Fischoff National Chamber Music Competition, Ulysses String Quartet began in summer of 2015. Ulysses also garnered a Career Development Award at the 2016 Banff International String Quartet Competition. Season highlights include Schneider Concerts, Dame Myra Hess Concerts and others across the United States. Members perform on instruments and bows graciously on loan from Canada Council for the Arts Instrument Bank and Maestro Foundation.
Third Prize
Viano String Quartet / USA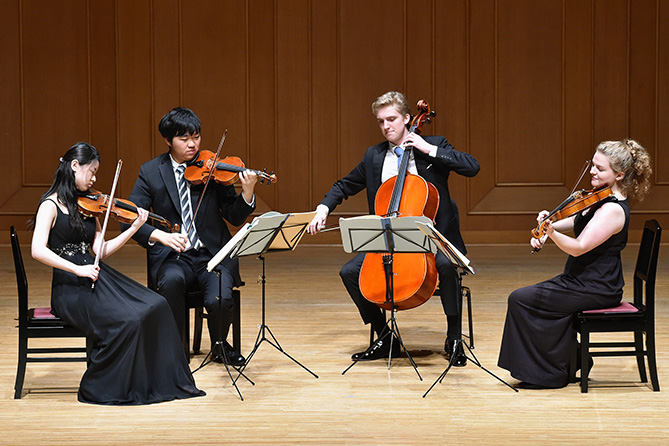 Viano String Quartet, with members Lucy Wang, Hao Zhou, Johanna Nowik, and Tate Zawadick, was formed at the Colburn School in Los Angeles during the fall of 2015. The quartet is coached by members of the Colburn School faculty and currently works with Clive Greensmith. The quartet has received additional guidance from artists such as Arnold Steinhardt and Gary Hoffman, as well as members of the Emerson String Quartet, Opus 1, and the Calidore String Quartet.
SectionII Wind Ensembles
First Prize
Quatuor Zahir / France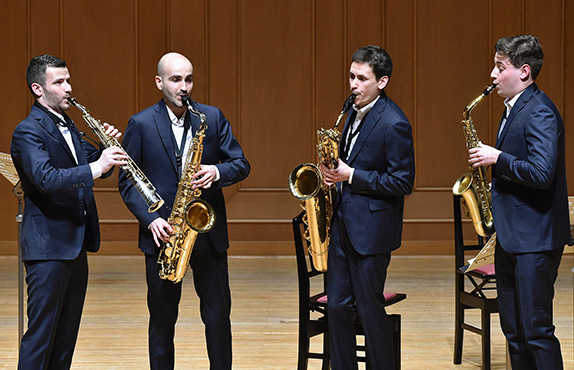 Quatuor Zahir was born in 2015 of a beautiful encounter of both artistic and human. These four saxophonists are currently studying at the Conservatoire National Superieur de Musique et de Dance de Paris. Laureates of the International Chamber Music Competition of FNAPEC in 2016 they perform at numerous festivals all over France and also offer masterclasses in conservatories. Whether revising the original repertoire through their encounters with many composers or through numerous transcriptions, these musicians show their curiosity and their creativity.
Second Prize
Niobé Saxophone Quartet / France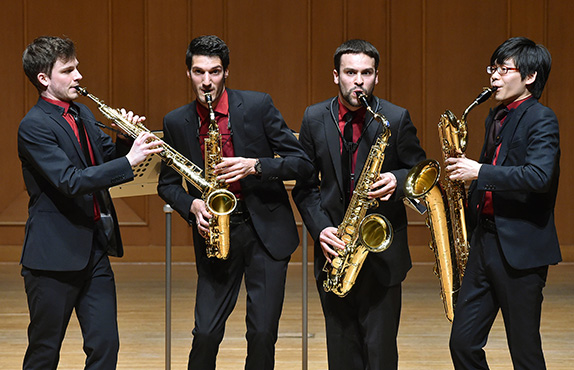 Niobe Saxophone Quartet was created in 2015 at the Paris CNSM, and received the teaching of numerous famous teachers such as Laszlo Hadady and Claude Delangle, etc. They are actually studying in Bachelor of Chamber Music with Master Laszlo Hadady. Niobe Saxophone Quartet has played at numerous famous halls in Paris including Theatre du Chatelet, Palais de Tokyo, Hotel de Soubise, and Romanian Embassy. They were selected by Jeunes Talents Agency for concerts of the 2016/2017 season. They were also invited by GaleIle Le Gallic in Radio France for the "Young Musicians" emission.
Third Prize
The qunst.quintett / Germany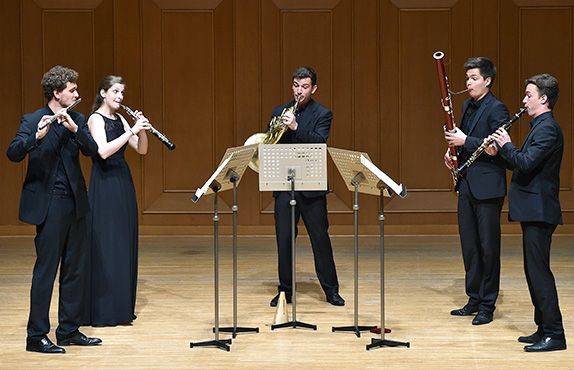 The qunst.quintett came together in 2010 when the five young musicians met at a German Youth Orchestra. They received a scholarship by the Jurgen-Ponto-Stiftung, which provided them with concerts all around Germany. In March 2016 they successfully participated in the German Music Competition and were admitted in the "61. Bundesauswahl Junger KCinstler" which will provide the ensemble with further concerts in the year 2017/2018. Aside from their chamber music activity, each musician is also playing in professional orchestras as substitute.
Third Prize
Local Brass Quintet, Paris / France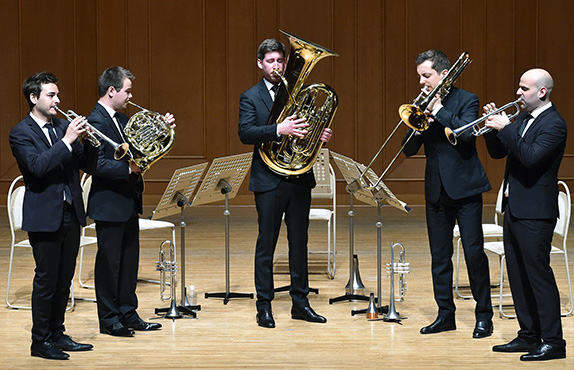 Established in 2015 by five musicians graduated from the Conservatoire National Superieur de Musique et de Dance de Paris (CNSMDP), Local Brass Quintet is one of the most active brass quintets in France. The same year, Local Brass Quintet joined the CNSMDP in master, category chamber music, having won the first prize of the open competition. In 2016-2017 they are invited to perform in the most famous festivals in France: Espival, Surgeries Brass Festival, and also abroad with their first China tour in December 2016. Local Brass was invited to take part in the radio show "Generations Jeunes Interpretes" on France Musique.

Festa Ensembles consisting of 2-6 performers. The combinations are free.
Menuhin Gold Prize
Folkloric Music Special Prize
Duo Prokopiev – Davtyan / Russia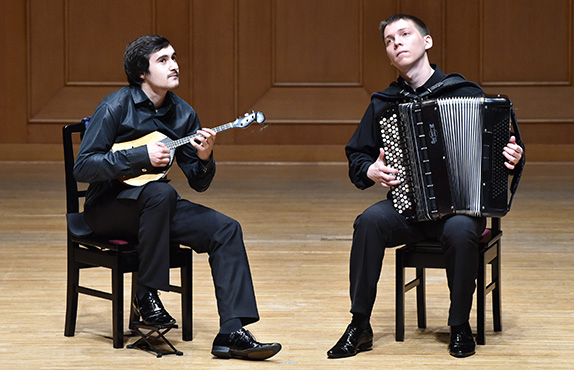 Duo Prokopiev – Davtyan was founded in 2010 by professors of the Novosibirsk M. Glinka conservatory Andrei Romanov (Bayan) and Andrei Kougaevski (Domra), who are Yehudi Menuhin gold Prize winners in Osaka 2002. Since 2010 Duo has an active performances in cities of Siberia. As soloists they are toured with concerts in Belarus, Kazakhstan, Armenia, Moldova, South Korea and Spain. The ensemble's repertoire consists by virtuosos original arrangements for domra and bayan of classical masterpieces and world folk music.
Silver Prize
Duo Funambules / France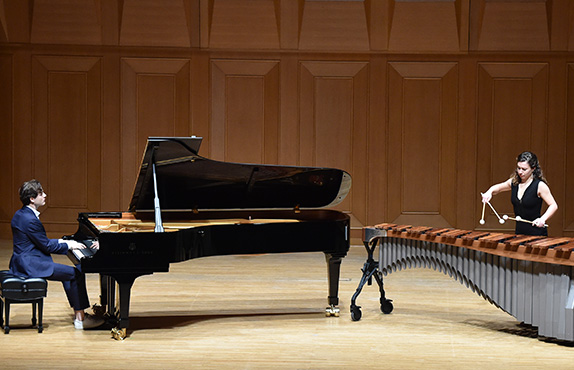 Duo Funamblues has first appeared together at a concert in France in May 2009. Subsequently they have performed across France and abroad at venues such as Radio France, classical and jazz festivals: Pianoscope, Classique au Vert, New York (Lycee Francais), Lebanon, Germany (Schloss Elmau), Bulgaria, La Reunion. American composer Patrick Zimmerli wrote his piece "Signs of Life" for the Duo in 2014. The duo's first recording album, "Funambules" for Deutsche Grammophone / Universal (2015) was released in April 2016. Recent highlights include concert at Theatre des Bouffes du Nord (Paris) filmed for television by Arte, appearances in national TV/radio shows (Victoires de la Musique Classique).
Bronze Prize
Trio Eclipse / Switzerland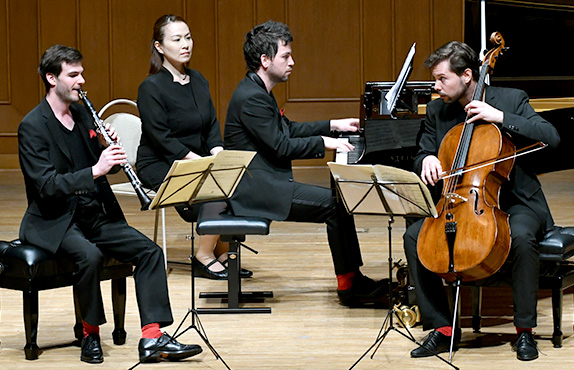 The Trio Eclipse is composed by the clarinetist Lionel Andrey, the cellist Sebastian Braun and the pianist Benedek Horvath. The three musicians met during their studies at the Hochschule fur Music in Basel. The Trio Eclipse is frequently invited to play in different festivals and concert series such as the Swiss Chamber Music Festival in Adelboden, the Label Suisse Festival, Generation Jeunes Interpretes in France Musique in Paris, etc. The Trio Eclipse is prizewinner (2nd Prize) of the "Orpheus Swiss Chamber Music Competition in December 2015.