about
Dates : May 17-25,2011
Appliced Ensembles : 211 Ensembles
Venue : Izumi Hal (Osaka,Japan)
Participated Ensembles : 32 Ensembles
Prize Winners of each Section
SectionI String Quartet
First Prize
Attacca Quartet / USA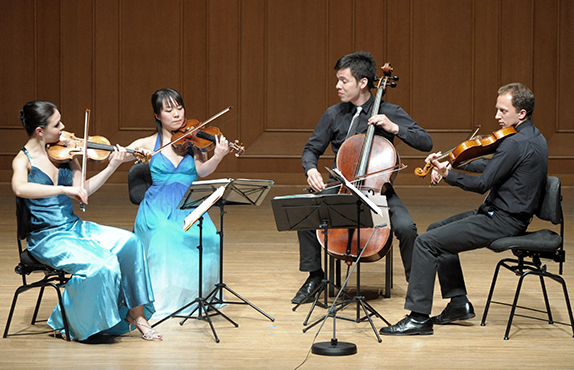 Winner of the Alice Coleman Grand Prize at the 60th annual Coleman Chamber Ensemble Competition in 2006. They gave its debut recital in Carnegie Hall's Weil Recital Hall in 2007, and have appeared there on numerous occasions since. The current resident quartet of the Northern Lights Music Festival for 2010-2011, the Attacca Quartet also held an artist residency at the Norfolk Chamber Music Festival, Banff Centre and Boston University Tanglewood Institute.
Second Prize
Schumann Quartett / Germany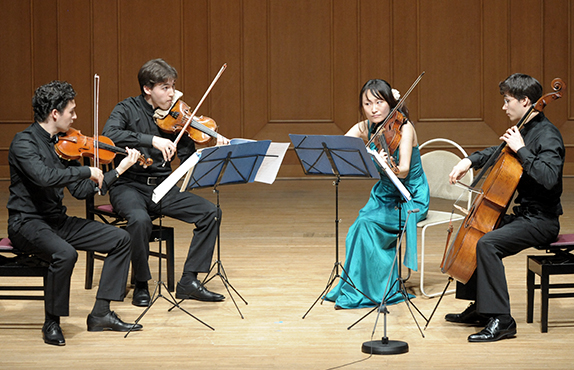 The Schumann Quartett was founded in 2007. Since 2009/10 the quartet has been "Artists in Residence" at the Robert Schumann Hall in Dusseldorf and performs regularly in concerts throughout Germany. In 2010 the ensemble made their first radio recording. They are winners of the "Doerken Foundation" scholarship. For the season 2011/12 the quartet was chosen to perform at the "Best of NRW". The concerts will be recorded by the WDR and broadcasted throughout Germany.
Third Prize
Verus String Quartet / Japan < Swiss based >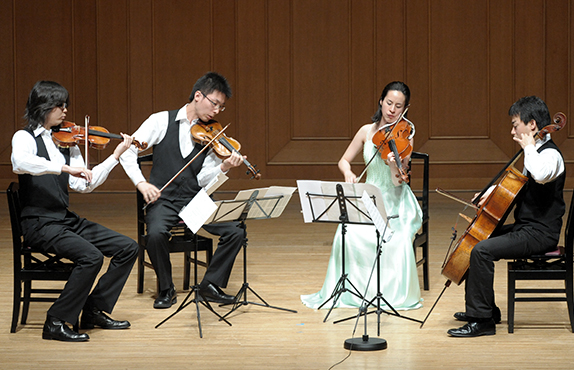 Founded in 2006, Verus String Quartet has appeared in various festivals such as Karuizawa Arts Festival, Miyazaki Music Festival, Project Q and Modern Music Series in Bonnieux, Germany and Switzerland etc. Winning Third Prize at ARD International Music Competition in Munich in 2008, they had the debut concert at Oji Hall in 2009. They were awarded grants by Matsuo Foundation in 2008 and 2010. In 2010 they received Aoyama Music Award of Kyoto Baroque Saal. They have been studying with Rainer Schmidt at City of Basel Music Academy Since 2010.
SectionII Wind Ensembles
First Prize
Morphing Quartet / France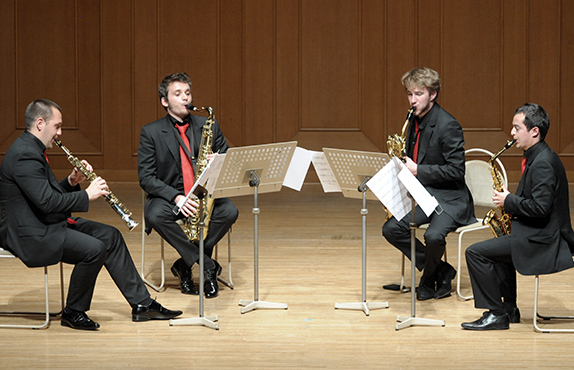 Morphing Quartet was founded after they met each other in the saxophone class of Claude Delangle. Throughout their shared passion for music, they have performed in many festivals in France and abroad. In 2010 the quartet was admitted into the chamber music programme at the CNSMDP and are currently studying with David Walter and Michel Moragues. Morphing is committed to the development of new music and works with composers with a view to widen the repertoire for this formation.
Second Prize
In Medias Brass Quintet / Hungary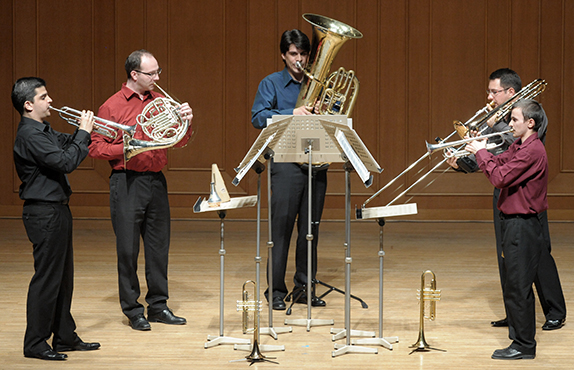 The ensemble was founded in January 2010 by former students of the Franz Liszt Academy of Music, Budapest. At the 6th Jeju International Brass competition, South-Korea in August 2010 they won all the categories in which they were competing, such as horn, trombone, tuba and brass quintet. In November 2010 they got First Prize at the 11th International Competition of Brass Ensembles in Passau, Germany. In January 2011 they gave the opening concert of the Geneva Brass Festival in Switzerland.
Third Prize
Ensemble mixt / Japan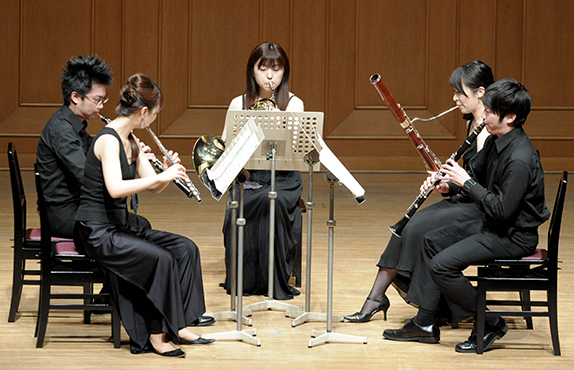 Established in 2003 whilst studying at Tokyo University of the Arts, four members of this quintet passed a school audition and performed at a Sunday Concert at the Sogakudo Concert Hall. Their concerts at the university in 2005 and 2006 acquired a good reputation and the quintet has performed in many concerts at and outside of the university. Studied chamber music with Prof. Yu Kobayashi and Prof. Kozo Moriyama, they have attended a master class by Berlin Philharmonic Wind Quintet.

Festa Ensembles consisting of 2-6 performers. The combinations are free.
Menuhin Gold Prize
Trio "CLASSIC WITHOUT BORDERS" / Russia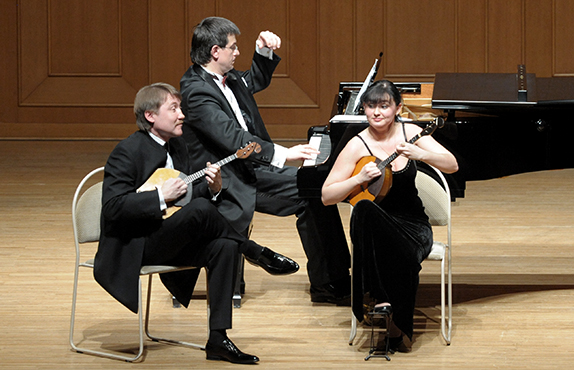 Trio Classic without Borders was founded in Rostov-on-Don in 2006. The trio members are graduates from Rostov State Rachmaninov High Music School. The Trio's repertoire represents their own arrangements of symphonic works by Bach, Mendelssohn, Tchaikovsky, Schnittke and others. The musicians collaborate with modern composers. The Trio successfully performs in many countries in Europe as well as in Russia.
Silver Prize
Nepomuk Quintet / Czech Republic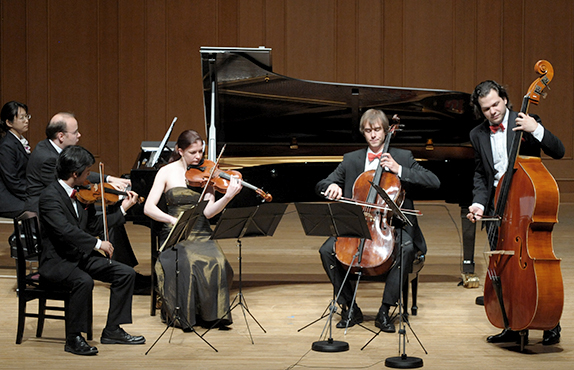 Nepomuk Quintet was founded by young musicians, who devoted themselves to chamber music and their passion for this genre besides their professional careers (members of Vienna State Opera, Wiener Philharmoniker, Staatskapelle Dresden and Vienna Radio Orchestra, and a professor at the Felix Mendelssohn Music University in Leipzig). Their will to share the wonderful music experience with their audience leads them to perform not only standard repertoire but also some of the classical music highlights in their own arrangements.
Bronze Prize
Carion / Denmark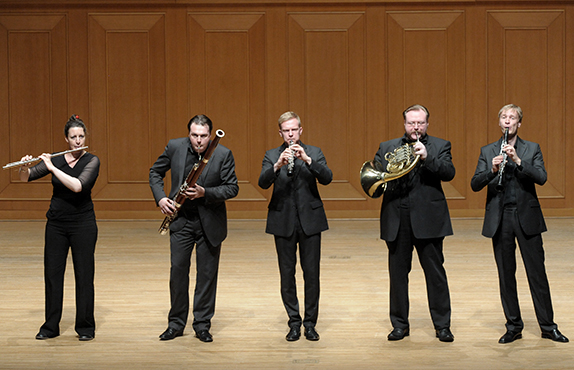 All works of Carion are played from memory, which provides them with more freedom in movement, improved communication with audience and choreography that reveals the inner architecture of works. Formed in 2002, the ensemble has gained great acclaim through their performances at festivals (i.e. Roskilde, SPOT, Wundergrund, Kissingen Sommer, Usedom, Al-Bustan), Danish Television and H1 Meisterkonzerte series. Carion is a prize-winner of 2004 Danish Radio Chamber Music Competition and 2006 Marco Fiorindo International Chamber Music Competition.
Folkloric Music Special Prize
VAIVORA / Lithuania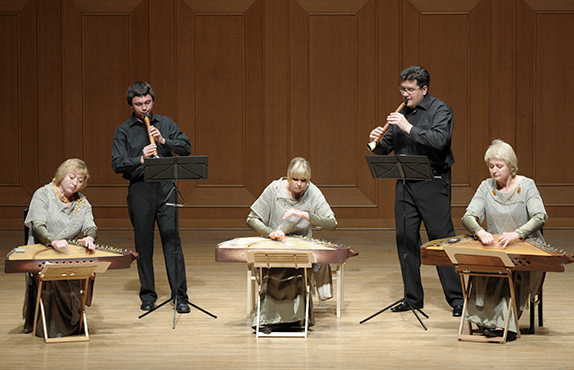 Founded in 1992, VAIVORA plays Lithuanian folk instruments. The prizes awarded to them include Grand Prix on International Competition of Multistring Folk Instrument "Baltia 2009" and 2nd Place on the 3rd Vera Gorodovskaja Int'l Competition-Festival on Non-Fingerboard Folk String Instruments. The Musicians' Society of Lithuania presented them the Gold Disc Prize in 2007. In the same year they performed at a festival "Yourope Together" in Essen, which was recorded by Deutschlandfunk and GEMA-Stiftung.