about
Dates : May 17-25,2005
Appliced Ensembles : 154 Ensembles
Venue : Izumi Hall (Osaka,Japan)
Participated Ensembles : 44 Ensembles
Prize Winners of each Section
SectionI String Quartet
First Prize
Bennewitz Quartet / Czech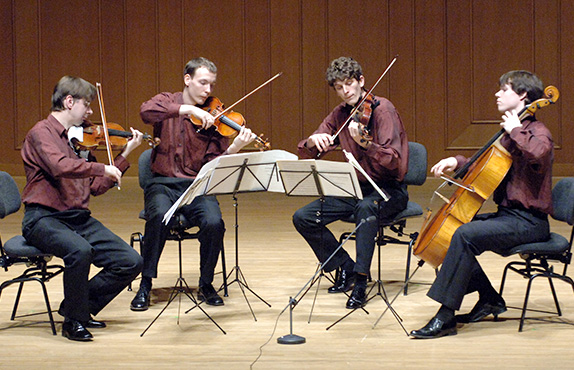 Established in Academy of Performing Arts Prague in 1998 (Prof. V. Bernašek and Prof. M. Škampa). Studied two years in Escuela Superior de Musica Reina Sofia in Madrid (Prof. Rainer Schmidt). Since 2004, it is in residence in Musik-Akademie der Stadt Basel in Cooperation with Prof. Walter Levin. In 2003 it received from the hands of the Queen of Spain the diploma for the best students of the year. In Master classes in Austria, it has been awarded for the Best Interpretation of works By Bartók, Martinu and Berg. They are the laureate of the Czech Association for Chamber Music by Czech Philharmony for 2004. The Quartet participated in the finals of ARD Competition in Munich receiving two prizes: Annual scholarship of the Theodor-Rogler Foundation and Barenreiter Urtext prize.
Second Prize
Kazakh State String Quartet / Kazakhstan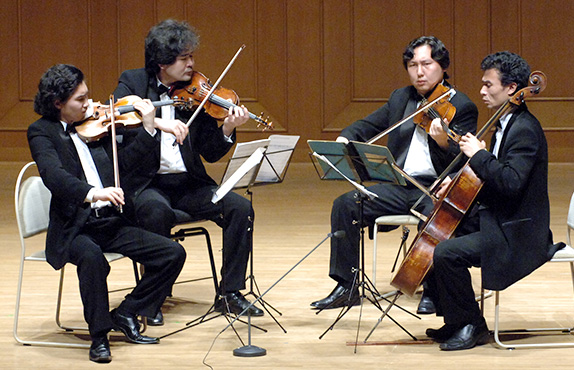 The Quartet was founded in 1988 in Almaty. The Quartet has many awards, among them: 1st Prize of the international competition "Rovere D'Oro" (Italy, 2001), 2nd Prize of the international competition "V. Bellini" (Italy, 2001), 2nd Prize of the International D. Shostakovich Competition (Moscow, 2004) and Grand prix and Cup of the President at the International festival "Shabty" (Kazakhstan, 2000). At the moment the musicians are studying at Escuela Superior de Musica Reina Sofia in Madrid with Prof. Rainer Schmidt (Hagen-Quartet).
Third Prize
Jade Quartet / Germany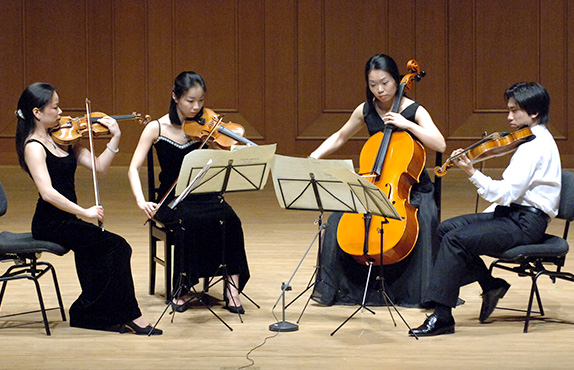 The Jade Quartet was established in 2001 and studies with Peter Buck (Melos Quartett) and Wolfram Koenig. In recent years, they were particularly impressed by the essential artistic impulses of Eberhard Feltz and Franz Beyer. In 2004, the Quartet won the First Prize at Germany Academy Awards, and the honor of the Iris-Marquardt-Preiz. Additionally, the Quartet was granted a scholarship by the Foundation Villa Musica and the Karl Klingler Foundation. And the Quartet is constantly invited to participate in prestigious Festivals such as the Oberstdorfer Musiksommer of the Musikalischer Sommer Ostfriesland.
Third Prize
Euclid Quartet / USA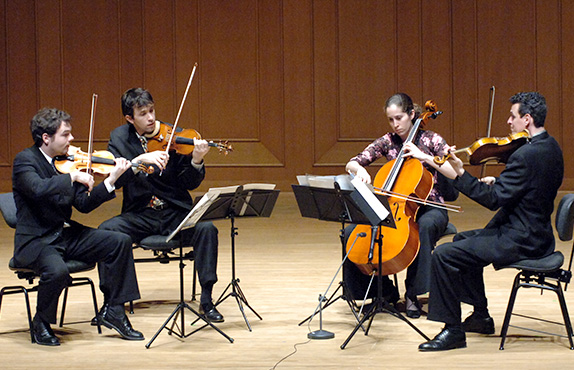 Described by the Denver Post as "electric", the Euclid Quartet is a dynamic ensemble known for performances filled with personality and vibrant color. The Quartet has earned several top prizes including the Carmel, Yellow Spring and Hugo Kauder competitions and has participated in the Aspen Music Festival Center for Advanced Quartet Studies and the Carnegie Hall Professional Training Workshops. Formed in Ohio in 1998, the Euclid Quartet is currently in residences at Morningside College in Sioux City, Iowa.
SectionII Woodwind Quintet/Trio & Saxophone Quartet
First Prize
Habanera Saxophone Quartet / France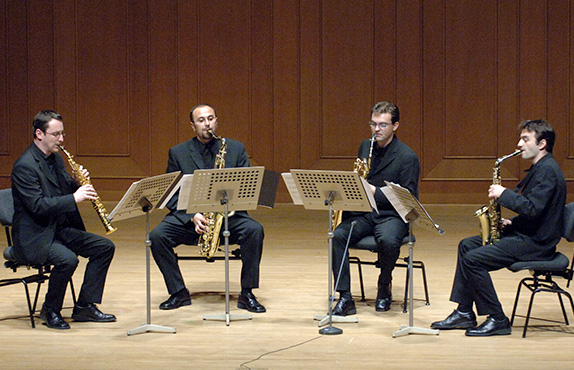 Created in 1993, the Habanera Saxophone Quartet has studied Chamber Music in the Conservatoire de Paris (first prize with honors in 1995) and next won seven international chamber music competitions: Bordeaux, Düsseldorf… They have given performances in Japan, U.S.A., Europe… Habanera's Records for Alpha-production has been warmly received by reviewers: Mysterious Morning featuring works by Donatoni, Ligeti, Xenakis… has earned the golden award of Diapason magazine. György Ligeti has allowed the Quartet to play an exclusive version of his Six Bagatelles.
First Prize
The Russian National Orchestra Wind Quintet / Russia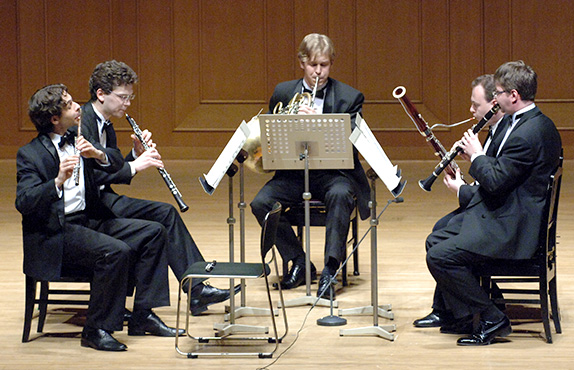 Founded in 2000, the Quintet has performed in Russia, Spain, the United States, etc. Its performances have been shown on Russian National TV channel "Culture" and broadcast on radio. Acclaimed for championing new music and musical experimentation, the Quintet recently completed an international tour that included performances with Chris Brubeck and Brubeck Brothers Quartet, and is developing a cycle of works written by Andrey Rubtsov. Works by Brubeck and Rubtsov will be included on a Penta Tone Classics recording featuring the RNO Wind Quintet.
Second Prize
Quatour Arcanes / France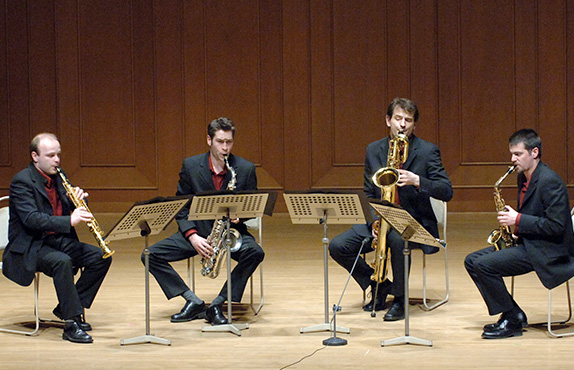 Quatuor Arcanes wish to present his chamber music group mainly through adaptation of string quartet (C. Debussy, M. Ravel, B.Smetana, S. Prokofiev, A. Dvorak, G. Kurtag, A. Webern) and contemporary works written for the ensemble in collaboration with young composers (J.D. Michat, A. Voirpy). It plays extensively in France but also in U.K., Morocco and Japan. Arcanes is frequently asked for master classes or to bring music to a wide representation of people. The Quartet is also regularly invited to major saxophone events throughout Europe.
Third Prize
Arirang-Quintett / Germany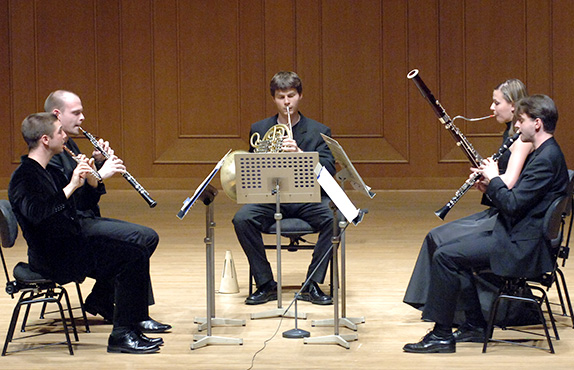 The Arirang-Quintett comprises five members of the Junge Deutsche Philharmonie and was founded in 2002. After a successful debut in the Bochum Theatre it was selected by Jeunesses Musicales Germany to represent Germany in the "International Showcase of young Musicians 2004" in Croatia. Having been awarder 2nd prize in the "International Chamber Music Competition Schwerin" in 2004, they were invited on a concert tour to Vienna, Brno and Prague ("Prague Spring Festival").

Festa Ensembles consisting of 2-6 performers. The combinations are free.
Menuhin Gold Prize
Duo Admony / Israel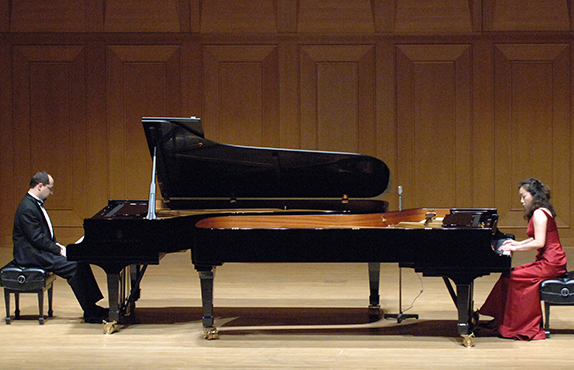 DUO ADMONY won the first prize in several International Piano duo Competitions: Tokyo 2000, "Rome 2001" and The 2002 IBLA GRAND PRIZE. They appeared throughout the Far East, Eastern & Western Europe, North America and the Middle East including prestigious halls such as Carnegie Recital Hall in New York and others. Radio broadcasts include NHK, Tokyo FM, CBC Canada, Warsaw & Budapest Radios and the Voice of Music in Israel. The Duo plays with leading orchestras in Israel and Europe.
Silver Prize
Duo Papi / Japan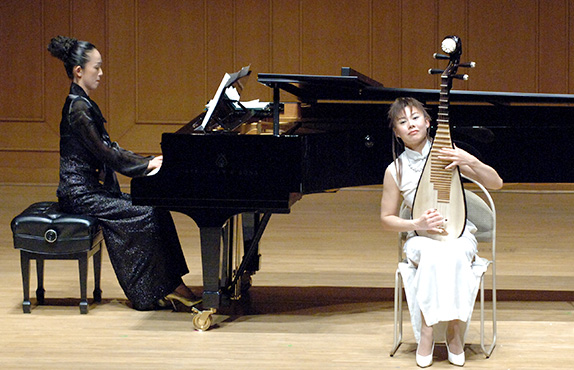 Founded in 2002. The Pipa and Piano Duo performs actively in Kansai, Kanto and Hokkaido regions. Also, China Central TV is planning to air their performance on TV. Their innovative Pipa performance and collaboration of Japanese-Western music enables them to exploit new repertoires. Nowadays, Enki composes her own piece.
Bronze Prize
Warsaw Accordion Quintet / Poland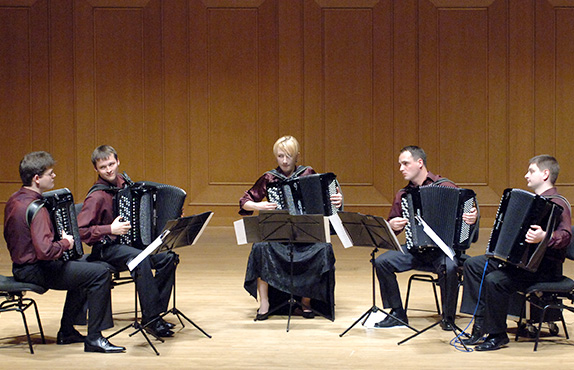 Founded in 1999 by students and alumni of Accordion Chair at Warsaw academy of Music who work under the guidance of Prof. Wlodzinierz Lech Puchnowski. They won the 1st prize at the International Accordion Competition in Castelfidardo and are prizewinners of All-Polish Accordion Competitions. The Quintet has given concerts I France, in Italy and in the whole Poland. They recently got the scholarship of the Ministry of Culture.
Folkloric Music Special Prize
Ensemble named after N. Budashkin / Russia